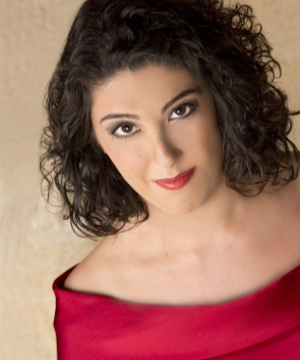 Laura Branham is an accomplished musician, director and a certified music teacher. She has her Master's Degree in Vocal Performance from Michigan State University, having achieved her Bachelor's Degree there as well. While at MSU, Branham appeared as Donna Elvira in Don Giovanni, Antonia in Les Contes d'Hoffmann, Anne Trulove in The Rake's Progress, Despina in Cosi fan tutte, Jessie in Mahagonny Songspiel, Carla in Nine, and Maria in Monkey See Monkey Do.
Mrs. Branham grew up performing musical theatre with Paper Bag Productions in Detroit. She also danced with Eric Johnston's Detroit Ballet Company for eight years, dancing such roles as Taglionne in Pas de Quatre. She has performed with the Great Lakes Lyric Opera Company, doing outreach operas for children throughout Michigan. She was the first place winner of the Callaghan Vocal Competition in 2001 and sang with the Seagle Music Colony in New York during the 2003 season.
In addition, Mrs. Branham gave an award winning performance as Lady Larkin in Once Upon a Mattress for the Riverwalk Theater in Lansing in 2004. In 2005, she participated in the Broadway Theater Project with such legends as Ben Vareen, Jeff Calhoun, and Debra McWaters, a dancer with Bob Fosse.
Mrs. Branham was the chair of the voice department at the Houston Institute of Music while she was also Rose in the southern premiere of Caroline, or Change, a Jeanine Tesori musical. From there, she moved to Miami, Florida where she joined the Miami Children's Theatre and ran one of their satellite locations from 2010 to 2013. The adventure continued in San Francisco, California. There, Mrs. Branham directed a 205 child production of The Wizard of Oz for the Children's Theatre of San Jose. She then took a job with the education department of the Bay Area Children's Theatre, working with kids and artists across the city. Next, she moved to Austin, Texas to work with the Zach theatre teaching children's music and theatre classes, and then moved to Baltimore, Maryland where she designed and installed a preschool music curriculum and also taught music classes for Garrison Forest Academy. Finally, she moved back to her hometown of Michigan! In 2008, Mrs. Branham took a job at Roberto Clemente Learning Academy where she has proudly been building the first ever elementary musical theatre program for Detroit Public Schools. Currently, Laura is on faculty at Detroit Country Day School where she teaches elementary children to sing, dance, act, and work together to create performing art together.
Most importantly though, Laura is the proud mother of a 7 year old daughter who can't wait to start singing with your children!
---
To contact Laura Branham, Artistic Director
please use the form below.
Or call:
248-220-7464