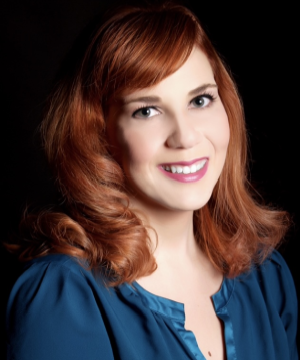 Katherine Huyghe, a native of Rochester Hills, Michigan, began her undergraduate vocal career at Albion College in Albion, Michigan. She was the recipient of the Katherine Westbrook Scholarship, Albion's most prestigious music scholarship. Katherine was the soprano soloist for Joseph Haydn's, Mass in Time of War, also known as Paukenmesse. She sang the soprano solos in Mozart's Requiem K. 626 for the concert choir. She also appeared in the operettas Trial by Jury as the Plaintiff, Angelina, and The Pirates of Penzance (Kate).
Katherine furthered her vocal studies in New York City, singing with The New York Treble Singers professional choir, where she studied with the director, Virginia Davidson. Katherine earned a Masters of Music at Bowling Green State University, where she studied vocal performance with Dr. Jane Schoonmaker Rodgers. Katherine reprised her role as the Plaintiff in Trial by Jury and appeared in BGSU's opera I Quattro rusteghi. She was also featured in the nationally known Classical Singer Magazine in January 2009.
After graduation, Katherine studied voice with Martha Sheil of The University of Michigan. Katherine spent a summer in San Francisco at the Bay Area Summer Opera Training Institute, where she studied such roles as Alice Ford (Falstaff), Donna Anna (Don Giovanni) and Female Chorus (The Rape of Lucretia).
Recently, Katherine has been busy in the world of musical theater, playing such roles as Francesca (The Bridges of Madison County), Lois Lane/Bianca (Kiss Me, Kate), and Widow Corney (Oliver) to name a few. She played a real estate agent in a national Quicken Loans commercial that aired on HGTV. She also does voiceovers for commercials throughout the country.
When Katherine is not performing, she teaches voice and piano lessons at her studio in Rochester, from which her students have gone on to pursue successful music and acting careers. To ensure that her students receive the best music education possible, Katherine is furthering her studies in vocal pedagogy by studying with famous vocal pedagogue Jeanie LoVertri.
---
To contact Katherine Huyghe, Associate Conductor
please use the form below.
Or call:
248-220-7464